Pork Sausage- Sweet Italian Bulk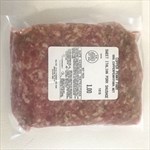 Category: Meat & Seafood
Our pork, flavored with mild Italian spices. Not in casing.
Tags
Pasture Raised
Available At These Locations
POINT OF ROCKS - Solid Rock Assembly of God
|
URBANA - Bar-T Mountainside
|
FREDERICK - Frederick Friends Meeting
|
WEST FREDERICK - Stone Pillar Farm
Available Items
Item is out of stock.
0 % Food