Body Butter - Grounded in Paradise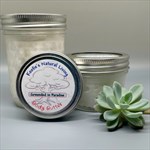 Category: Health & Beauty
A tropical version of our Grounded BB; accidentally buying virgin coconut oil was fortuitous! Grounded in Paradise makes me think of yoga on a tropical beach :)
Our whipped body butter is silky smooth! It feels like walking through a cloud, and is incredibly moisturizing. Body butters work best when applied after soaking in water (a bath, shower, washing the dishes etc).
Ingredients: shea butter, mango butter, organic virgin coconut oil, and essential oils of frankincense and clary sage.
Tags
Holiday items
Local
Vegan
Available At These Locations
FREDERICK - Frederick Friends Meeting
|
POINT OF ROCKS - Solid Rock Assembly of God
|
URBANA - Bar-T Mountainside
|
WEST FREDERICK - Stone Pillar Farm
Purchase
6 % Maryland Sales Tax