Applewurst Sausage LOOSE ~ GMO- and soy-free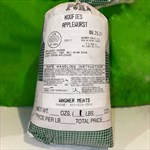 Category: Meat & Seafood
Limited availability! Applewurst sausage is an autumn favorite! A sweet pork sausage with applesauce makes for a tasty fall flavor.
Ingredients: Pork, salt, brown sugar, black pepper, applesauce

Our heritage pigs are raised in the woods to have a variety of natural food choices, as well as twice daily feeding of fermented GMO- and soy-free grain and mineral mix. This produces a wonderful flavor that is a much different experience from store-bought pork.
Tags
Antibiotic Free
Beyond Organic
Frozen
Hormone Free
Local
Naturally Grown
Non-GMO
Pasture Raised
Soy Free
Sustainable Practices
Woodland Raised
Available At These Locations
FREDERICK - Frederick Friends Meeting
|
POINT OF ROCKS - Solid Rock Assembly of God
|
URBANA - Bar-T Mountainside
|
WEST FREDERICK - Stone Pillar Farm
Available Items
0 % Food