Pork - Ham Steaks (smoked) ~ BUY ONE GET ONE FREE!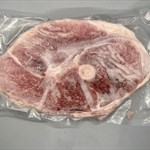 Category: Meat & Seafood
Sale! Buy one, get one of equal/lesser value FREE! Addition is automatic, nothing to do :)
Ham steaks are perfect for those days when you want ham, but not a whole ham! Our packages of ham steaks contain one or two ham slices, enough for 1-2 people and cook quickly.

Our woodlot-raised, heritage pigs have a variety of natural food choices, plus fermented GMO-,soy-, and corn-free grain /mineral mix. This produces a wonderful flavor!
Tags
Antibiotic Free
Frozen
Hormone Free
Local
Naturally Grown
Non-GMO
Soy Free
Sustainable Practices
Woodland Raised
Available At These Locations
FREDERICK - Frederick Friends Meeting
|
POINT OF ROCKS - Solid Rock Assembly of God
|
URBANA - Bar-T Mountainside
|
WEST FREDERICK - Stone Pillar Farm
Available Items
0 % Food